Benevolent Bubbles at Patterson Park by the Pagoda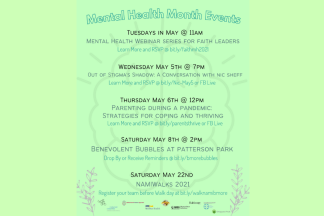 NAMI Metro Baltimore and Benevolent Bubbles will be at Patterson Park on May 8th from 2:00pm - 4:30pm. Come enjoy the ambiance of bubble bikers, pick up some informational mental health pamphlets and giveaways, and hang out at the park (in a safe, socially distanced manner)!
Masks will be worn and we will practice social distancing.
Event Contact
NAMI Metro Baltimore
Event Details
Saturday, May 8, 2021, 2:00 PM – 4:30 PM
Free
Location
Add Event To Your Calendar