Black Women & Nostalgia with Alanah Davis and Sharayna Christmas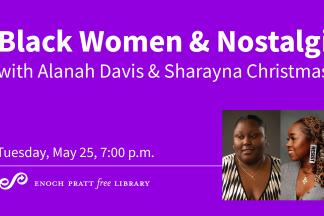 Registration not required, but encouraged. Click here to register through Eventbrite.
Join us for a night with Alanah Davis and Sharayna Christmas.
As two Black women with roots in New York City, Baltimore transplants Alanah Davis and Sharayna Christmas will read essays, poems, and muse on what it means to use Nostalgia as a tool for healing.
Alanah Nichole Davis is a mother, essayist, cultural worker, social designer, and philanthropist from The Bronx, NY based in Baltimore MD. Davis is a candidate for her Master of Arts in Social Design at Maryland Institute College of Art and is affectionately referred to as Baltimore's Godmother for her ability to foster, support, love, and build everything she touches. Her written witticisms surrounding love, race, womanhood, and being a human have gone viral online in perfect millennial fashion and are also in print to match her old soul.
Sharayna Ashanti Christmas is a self-starter, social entrepreneur, creative, and producer. Over the last 15 years, she has served in many capacities - performer, creative director, facilitator, collaborator, etc -bringing individuals and organizations together to develop and sustain ecosystems that support creatives and the communities they live in and serve. She has been fearless and audacious in creating opportunities, like the one her mother and the Dance Theater of Harlem created for her in ballet, through a nonprofit she founded in 2004, Muse 360 Arts. While leading Muse 360 Arts, Sharayna developed, served, and changed the lives of over 1000 youth and their families annually, providing creative entrepreneurship opportunities, high-quality dance training, and opportunities to study abroad. Muse 360 also partners with dozens of artists and institutions to maximize resources for the community. Muse 360 Arts was recognized in 2018 by Baltimore Magazine as one of the best arts institutions for youth.
ASL interpretation will be available for attendees.
Dial-In Information
Please click the link below to join the webinar:
https://marylandlibraries.zoom.us/j/95205766003?pwd=eXhwNG83VGd2TTF0TUhW...
Passcode: 840461
Or Telephone:
Dial(for higher quality, dial a number based on your current location):
US: +1 301 715 8592 or +1 646 558 8656 or +1 651 372 8299 or +1 786 635 1003 or +1 267 831 0333 or +1 312 626 6799 or +1 470 250 9358 or +1 470 381 2552 or +1 646 518 9805 or +1 669 900 9128 or +1 720 928 9299 or +1 971 247 1195 or +1 213 338 8477 or +1 253 215 8782 or +1 346 248 7799 or +1 602 753 0140 or +1 669 219 2599
Webinar ID: 952 0576 6003
Passcode: 840461
International numbers available: https://marylandlibraries.zoom.us/u/aUtmlilPp
The conversation will also be broadcast on the Enoch Pratt Free Library Facebook page. It can be watched after the broadcast on the library's Facebook Live. Click here for the Live video library.
Event Contact
Event Details
Tuesday, May 25, 2021, 7:00 PM – 8:00 PM
Free
Add Event To Your Calendar