WEBINAR: Ksenia Nouril & Lisa Blas, "Fit to Print: Artists and the News at The Print Center"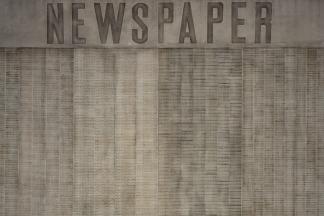 ART SEMINAR GROUP WEBINAR - ONLINE PROGRAM THROUGH ZOOM
Fit to Print: Artists and the News at The Print Center
Ksenia Nouril, PhD, Jensen Bryan Curator, The Print Center
Lisa Blas, a New York-based artist, who conceived the idea for the exhibition and serves as an advisor
Co-curators Lisa Blas and Dr. Ksenia Nouril will virtually "walkthrough" the group exhibition Fit to Print on view at printcenter.org from May 1 to June 30, 2021. The exhibition explores the use of newspapers in art from the post-war era to today. It addresses how artists work with the medium of newsprint as a nexus where the studio, everyday life and current events perennially merge and collide. This exploration is particularly timely in an age when truth in news is fractured and suspect, due to the proliferation of sensationalist stories, pitted against traditional sources of journalism. Fit to Print will feature work by Jennifer Bolande, Lisa Blas, Chryssa, Laura Fields, Jef Geys, Beatriz González, Helena Hernmarck, Rita Maas, Dan Perjovschi, Donna Ruff, Soledad Salamé and Paul Thek – a select group of modern and contemporary artists whose works reveal slippages between everyday life and what is depicted and recounted on the printed page.
$15 door fee for guests and subscribers (no fee for members)
Event Contact
Art Seminar Group
4108791947
Event Details
Thursday, May 6, 2021, 1:30 PM – 3:00 PM
4108791947
Location
Add Event To Your Calendar