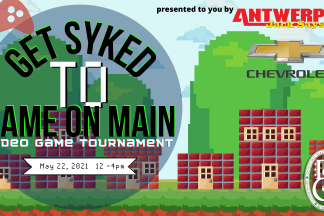 The Downtown Sykesville Connection & Antwerpen Chevrolet invite you to join us on May 22, 2021, for our family-friendly event, Game On Main! This brand new event will celebrate all that makes Sykesville the Coolest Small Town and Best Main Street in America with sidewalk displays from our unique shops and boutiques, food and drinks from our amazing eateries, and a
VIDEO GAME TRUCK COMPETITION
Get Syked to Game on Main
all right here on Main Street!!! This is the perfect event to showcase those gaming skills you have been perfecting during quarantine with three gaming trucks offering family-friendly competition games: Mario Kart, Super Smash Brothers Brawl, and Rocket League. What are you waiting for? Reserve our time slot today! We cannot wait to see you back on Main Street!
We will have three trucks to choose from:
Truck #1: Rocket League casual play!
10-minute round on Rocket League in an 8 player split-screen set up with ONE winner being selected at the end of each round. The winner takes a prize home!
Truck #2: Super Smash Brothers Ultimate casual play!
10-minute round on Super Smash Brothers Ultimate in an 8 player split-screen set up with ONE winner being selected at the end of each round. The winner takes a prize home!
Truck #3: Rocket League Face-off Competition!
From 12:00-3:00PM players will compete in a 4v4 set up with the highest-scoring player progressing to the "Final Hour Faceoff". At 3PM all winners will be invited back to the truck for our "Final Hour Faceoff"! Our 18 top scoring winners competing for head to head to determine the Grand Prize Winner in an instant elimination process. Starting in 3v3 format players will face off in 5-minute matches with the lowest scoring player being eliminated after each round. After all 18 players have played we will be left with 12 players who will compete in a 2v2 5-minute match, again the lowest scoring player will be eliminated. This will leave 6 players remaining who will compete in TWO 5 minute matches to determine our highest scoring player!
Please note that points will be cumulative throughout the entire day!
If you are eliminated during the "Final Hour Faceoff" you will be added to our second chance bracket where you will be able to play one more game against the other eliminated players.
Volunteer for the event!
Thank you to our Sponsor: Antwerpen Chevrolet, 6110 Sykesville Road, Eldersburg, MD 21784, Phone: 410-795-1200
This event is a fundraiser to support the operations of the Downtown Sykesville Connection, Inc., a community service nonprofit organization dedicated to improving the quality of life in downtown Sykesville.
Please arrive 15 minutes prior to your time, late arrivals will not be guaranteed a spot.
Non-refundable, event is rain or shine.
NO PETS ALLOWED (Town Ordinance 301, which modified the Town Code. The Town Code reference for the "no pets or animals allowed at Town events is: Chapter 51, Article 1, Sections 51-1 through 51-)
*Information provided to the Downtown Sykesville Connection will not be used for any purpose other than the distribution and/or confirmation of receipt of tickets.
*The Downtown Sykesville Connection is not responsible for any situations that arise due to the Paypal transaction system.
*By attending the 2021 Get Syked to Game on Main, I understand that I may be photographed or videotaped for promotional or educational purposes.
Please be advised that we all have a responsibility to stop the spread of COVID-19. The Downtown Sykesville Connection works closely with the Carroll County Health Department to ensure all of our events are COVID compliant and safe for all attendees. As such, we require that you wear your face mask at all times, practice social distancing on 6 feet or more, and frequent hand washing. We will have hand sanitizers located throughout Main Street and encourage you to take advantage of these resources. Our game truck partners will be sanitizing all equipment between players, please be patient during these rotations so we can ensure sanitization of all gameplay areas.
If you are experiencing COVID-19 symptoms, have been in contact with someone who has COVID-19 or are feeling ill within two weeks of the event we ask that you DO NOT attend the Game On Main event. If we all do our part we can continue to enjoy our beautiful Main Street safely!
If you have any questions or concerns please contact [email protected].
Event Contact
Troy Welsh
Event Details
Saturday, May 22, 2021, 12:00 PM – 4:00 PM
Location
Add Event To Your Calendar