Brown Lecture Series: Tamara Winfrey-Harris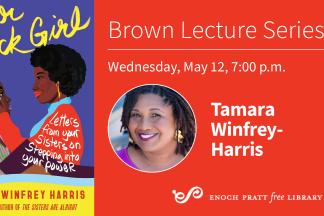 Registration not required, but encouraged. Click here to register through Eventbrite: https://www.eventbrite.com/e/brown-lecture-series-tamara-winfrey-harris-...
Presented in partnership with the Reginald F. Lewis Museum.
Tamara Winfrey-Harris will be in conversation about her new book, Dear Black Girl.
More than a year ago, author Tamara Winfrey-Harris asked a few Black women on social media to write 12 honest, open, and inspiring letters of support to young Black girls in a workshop aged thirteen to twenty-one to. She asked them to write letters that were loving, truthful, vulnerable, feminist, anti-racist, body positive, LGBTQ+ positive, anti–respectability politics, and pro–Black girl. Instead of twelve letters, she received more than fifty from all over the world. And she continues to receive them. On scented paper. Through the internet. Shoved into her hands in Starbucks. Neatly printed on notebook paper. Typed. Scrawled in elegant swirls. In hand-decorated envelopes. These letters are the basis of Harris' Dear Black Girl: Letters from Your Sisters on Stepping into Your Power.
In Dear Black Girl, Winfrey-Harris introduces and organizes a selection of these letters, modeling how black women can nurture future generations. Each chapter ends with a prompt encouraging girls to write a letter to themselves, teaching the art of self-love and self-nurturing.
ASL interpretation will be available to attendees.
Visit https://www.theivybookshop.com/ to order your copies of Dear Black Girl.
The Brown Lecture Series is supported by the Eddie C. and C. Sylvia Brown Foundation.
Dial-In Information
Please click the link below to join the webinar:
https://marylandlibraries.zoom.us/j/97222740531?pwd=SFA0Vk5QMlY2YS96SXNJ...
Passcode: 897725
Or One tap mobile :
US: +13017158592,,97222740531#,,,,*897725# or +16465588656,,97222740531#,,,,*897725#
Or Telephone:
Dial(for higher quality, dial a number based on your current location):
US: +1 301 715 8592 or +1 646 558 8656 or +1 651 372 8299 or +1 786 635 1003 or +1 267 831 0333 or +1 312 626 6799 or +1 470 250 9358 or +1 470 381 2552 or +1 646 518 9805 or +1 669 900 9128 or +1 720 928 9299 or +1 971 247 1195 or +1 213 338 8477 or +1 253 215 8782 or +1 346 248 7799 or +1 602 753 0140 or +1 669 219 2599
Webinar ID: 972 2274 0531
Passcode: 897725
International numbers available: https://marylandlibraries.zoom.us/u/aslWhVDqd
The conversation will also be broadcast on the Enoch Pratt Free Library Facebook page. It can be watched after the broadcast on Facebook Live.
Event Contact
Event Details
Wednesday, May 12, 2021, 7:00 PM – 8:00 PM
Free
Add Event To Your Calendar