Writers LIVE! Audrey Clare Farley, The Unfit Heiress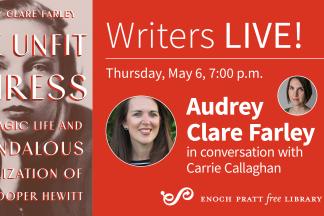 Registration not required, but encouraged. Click here to register through Eventbrite: https://www.eventbrite.com/e/writers-live-audrey-clare-farley-the-unfit-...
Audrey Clare Farley will be in conversation with Carrie Callaghan about her work and her newest book, The Unfit Heiress.
Audrey Clare Farley is a writer, book reviewer, and historian of twentieth-century American fiction and culture. Having earned a PhD in English from University of Maryland, College Park in 2017, she occasionally lectures in history and literature at local universities. Her essay on Ann Cooper Hewitt, published in July 2019 in Narratively, was the publication's second most-read story of the year. Her writing on the eugenics movement and other topics has appeared in The Atlantic, The Washington Post, The New Republic, Public Books, Lady Science, Longreads, and Marginalia Review of Books, where she is a contributing editor. She lives in Hanover, Pennsylvania.
Carrie Callaghan is the author of the historical novels A Light of Her Own (2018) and Salt the Snow (2020). Her short stories have been published in multiple literary journals, and she is a senior editor with the Washington Independent Review of Books. She lives in Maryland with her family and three ridiculous cats. She loves seasons of all kinds, history, and tea.
Order your copy of The Unfit Heiress from the Ivy Bookshop.
ASL interpretation will be available for attendees.
Writers LIVE programs are supported in part by a bequest from The Miss Howard Hubbard Adult Programming Fund.
Dial-In Information
Please click the link below to join the webinar:
https://marylandlibraries.zoom.us/j/96649370812?pwd=dUM2d0hEWVE5b0plWVRU...
Passcode: 115623
Or Telephone:
Dial(for higher quality, dial a number based on your current location):
US: +1 301 715 8592 or +1 646 518 9805 or +1 646 558 8656 or +1 651 372 8299 or +1 786 635 1003 or +1 267 831 0333 or +1 312 626 6799 or +1 470 250 9358 or +1 470 381 2552 or +1 669 219 2599 or +1 669 900 9128 or +1 720 928 9299 or +1 971 247 1195 or +1 213 338 8477 or +1 253 215 8782 or +1 346 248 7799 or +1 602 753 0140
Webinar ID: 966 4937 0812
Passcode: 115623
International numbers available: https://marylandlibraries.zoom.us/u/apvZphan0
The conversation will also be broadcast on the Enoch Pratt Free Library Facebook page. It can be watched after the broadcast on the library's Facebook Live. Click here for the Live video library.
Event Contact
Event Details
Thursday, May 6, 2021, 7:00 PM – 8:00 PM
Free
Add Event To Your Calendar