Virtual Front Row | Proper Nouns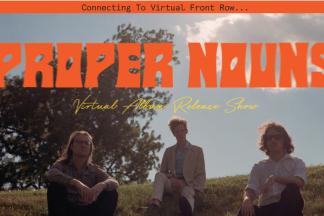 Baltimore's Proper Nouns throw some of their indie, upbeat, poppy, punk vibes onto the little screen with this Virtual album release. On Proper Nouns' debut LP, Feel Free (Phonebooth Records), Spencer Compton runs each song like a sharp, witty, Poli Sci salon, coating complex ideas in punk energy and power pop candy floss. Coming on like Script Politti's Green Gartside on a frenetic Minutemen beat, Compton aims his heady songs at the gut, letting the personal and the political swing in unison.
Feel Free comes out April 23rd and is available on vinyl, tape, and digitally at propernouns.bandcamp.com/
About Your Virtual Ticket:
All ticket levels will receive a confirmation email with an access link to view this performance live. Access is available for one device at a time and cannot be shared. Access is through the provided link and not available via other platforms (Facebook, Youtube, etc). All price levels will receive the same viewing experience. Ticket revenue is split between artists and Creative Alliance. If you have the means, the Supporter level ticket ensures additional artist and organizational support.
Your access to the event will be including in the confirmation email you receive upon purchase. Scroll down until you see a blue box. That is your access. Your ticket is valid for viewing on-demand for up to a month after this live, virtual event.
​
Questions? Email [email protected]
Event Contact
Event Details
Friday, April 23, 2021, 8:00 PM – 9:00 PM
Location
Add Event To Your Calendar