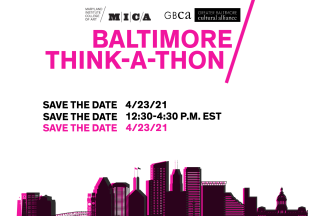 Maryland Institute College of Art (MICA) and The Greater Baltimore Cultural Alliance (GBCA) invite you to the eighth Baltimore Thinkathon, a half-day of collaborative idea sharing, problem-solving, and community-building with art- and culture-makers from across the city and beyond.
The COVID-19 pandemic has taken an inexpressible toll on the creative economy. Culture workers find themselves jumping higher hurdles for dwindling resources. Among the hardest-hit are individuals and small organizations whose innovative, exciting, heartfelt work enriches so Baltimore's arts ecosystem.
The Baltimore Thinkathon is a participant-powered space where those who make and support art and culture in the city can come together to share stories, ask questions, brainstorm solutions, exchange resources, and find inspiration. Participants decide on topics of interest and discuss them in small groups.
While there is no charge to attend, registration is required. A zoom link will be shared with registrants prior to the event, along with conversation prompts and questions for reflection. If you have questions or suggestions, feel free to email them to [email protected].
Event Contact
Event Details
Friday, April 23, 2021, 12:30 PM – 4:30 PM
Free
Location
Add Event To Your Calendar