Writers LIVE! Miranda Rose Hall and Jacqui Patterson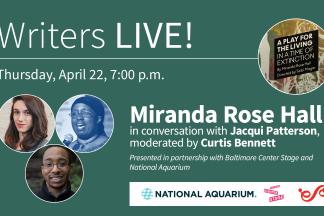 Registration not required, but encouraged. Click here to register through Eventbrite: https://www.eventbrite.com/e/writers-live-miranda-rose-hall-and-jacqui-p...
Join us for a special Earth Day event presented with Center Stage and the National Aquarium.
Miranda Rose Hall will be in conversation with Jacqui Patterson, moderated by Curtis Bennett from the National Aquarium, to discuss the themes in A Play for the Living in a Time of Extinction.
Miranda Rose Hall (she / her / hers) is a playwright from Baltimore, MD. Her plays include Plot Points in Our Sexual Development (LCT3/Lincoln Center Theater, finalist for the 2019 Lambda Literary Award in Drama), The Hour of Great Mercy (Diversionary Theater, 2019 San Diego Critics Circle Award for Outstanding New Play), A Play for the Living in a Time of Extinction (upcoming Baltimore Center Stage), The Kind Ones (upcoming Magic Theatre), and Menstruation: A Period Piece. She is currently under commission from LCT3/Lincoln Center Theater, Yale Repertory Theater, and Playwrights Horizons Soundstage, and in 2020, she was honored with a Steinberg Distinguished Playwright Award. She has developed her work with New York Theater Workshop, Baltimore Center Stage, Woolly Mammoth, The Kennedy Center, We the Women / Center Theatre Group, Rattlestick Playwrights Theater, The Playwright's Realm, National New Play Network, Orlando Shakespeare Theater, EnGarde Arts, Provincetown Theater, Two River Theater, Cygnet Theater, Single Carrot Theatre, and the Orchard Project. She is a founding member of LubDub Theatre, a New York-based physical theater company.
Jacqui Patterson is a researcher, policy analyst, organizer, and activist. She is the senior director of the NAACP Environmental and Climate Justice Program and cofounder of Women of Color United. She is a contributor to All We Can Save, an anthology of writings by 60 women at the forefront of the climate movement who are harnessing truth, courage, and solutions to lead humanity forward.
Curtis Bennett is the National Aquarium's Director of Equity and Community Engagement where he and his team develop transformational relationships with local residents and stakeholders, co-creating environmental programs and projects that meet community needs. He represents the National Aquarium on several local, regional, and national diversity, equity, inclusion and justice-focused committees and workgroups, including the Association of Zoo and Aquariums, the Environmental Protection Agency Chesapeake Bay Program, and the Choose Clean Water Coalition.
An avid outdoors person, Curtis has over 15 years of experience encompassing wildlife ecology, habitat restoration, community engagement and environmental education. He has a Bachelor of Science in environmental science and policy with a concentration in wildlife ecology and management from the University of Maryland, College Park, and a Master of Science in wildlife conservation from the University of Delaware.
Visit the Center Stage website to stream A Play for the Living in a Time of Extinction, April 15 - May 9.
Purchase a copy of All We Can Save from the Ivy Bookshop: https://www.theivybookshop.com/.
ASL interpretation will be available to attendees.
Writers LIVE programs are supported in part by a bequest from The Miss Howard Hubbard Adult Programming Fund.
Dial-In Information
Please click the link below to join the webinar:
https://marylandlibraries.zoom.us/j/91517727283?pwd=UXZyQ3dMaURiaUpXeFdi...
Passcode: 093633
Or Telephone:
Dial(for higher quality, dial a number based on your current location):
US: +1 301 715 8592 or +1 646 558 8656 or +1 651 372 8299 or +1 786 635 1003 or +1 267 831 0333 or +1 312 626 6799 or +1 470 250 9358 or +1 470 381 2552 or +1 646 518 9805 or +1 669 900 9128 or +1 720 928 9299 or +1 971 247 1195 or +1 213 338 8477 or +1 253 215 8782 or +1 346 248 7799 or +1 602 753 0140 or +1 669 219 2599
Webinar ID: 915 1772 7283
Passcode: 093633
International numbers available: https://marylandlibraries.zoom.us/u/abjlNtcocv
The conversation will also be broadcast on the Enoch Pratt Free Library Facebook page. It can be watched after the broadcast on Facebook Live.
Event Contact
Event Details
Thursday, April 22, 2021, 7:00 PM – 8:00 PM
Free
Add Event To Your Calendar