Finding Truth, Healing, and Reconciliation: The History of Lynchings in Maryland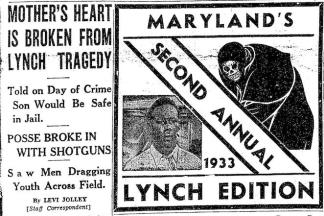 Between 1865 and 1950, more than 4,000 black Americans were lynched in the United States; at least 40 were in Maryland. The Maryland Lynching Truth and Reconciliation Commission (MLTRC), established by state legislation in 2019, is the first of its kind in the nation and is tasked with researching, acknowledging, and commemorating these violent historical events. Commissioners Dr. David Fakunle, Maya Davis, and David Armenti join Will Schwarz, filmmaker and founder of the Maryland Lynching Memorial Project, to discuss the commission's ongoing charge to find truth and reconciliation.
This event hosted by the Maryland Center for History and Culture is free but registration is required.
Event Contact
Jennifer Michael
410-685-3750
Event Details
Thursday, April 8, 2021, 12:00 PM – 1:00 PM
Free
Location
Add Event To Your Calendar