Dean's Lecture Series featuring Monique W. Morris.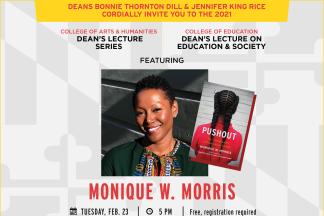 Please join us Tuesday, February 23 at 5 p.m. for the virtual 2021 College of Arts & Humanities Dean's Lecture Series and College of Education Dean's Lecture on Education & Society featuring Monique W. Morris.
An award-winning author and social justice scholar, Monique will discuss her documentary "PUSHOUT: The Criminalization of Black Girls in Schools." Based on two of her books—one of the same name and the other called "Sing a Rhythm, Dance a Blues: Education for the Liberation of Black and Brown Girls"—the documentary examines the educational, judicial and societal disparities facing Black girls.
The lecture will be followed by a Q&A. Register in advance to attend the free virtual program.
ARHU is pleased to join with the College of Education in co-sponsoring this provocative and timely event.
Event Contact
Event Details
Tuesday, February 23, 2021, 5:00 PM – 6:30 PM
Location
Add Event To Your Calendar