An Evening with Wallace Lane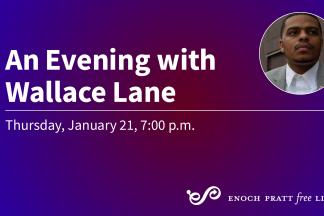 Join us for a night of creativity to preview Wallace Lane's new work. Lane will be joined by performances with local creators.
Wallace Lane is a poet, writer, and author from Baltimore, Maryland. He received his MFA in creative writing and publishing arts from the University of Baltimore in May 2017. His poetry has appeared in Little Patuxent Review, The Avenue, Welter and is forthcoming in several literary journals. Jordan Year, his debut collection of poetry, was released in May 2017. Wallace also works as a teacher with Baltimore City Public Schools.
More details to come!
DIAL-IN INFORMATION
Please click the link below to join the webinar:
https://marylandlibraries.zoom.us/j/99991587914?pwd=OVl3OUxLY0JuaHo5REYv...
Passcode: 626070
Or Telephone:
Dial(for higher quality, dial a number based on your current location):
US: +1 301 715 8592 or +1 651 372 8299 or +1 786 635 1003 or +1 267 831 0333 or +1 312 626 6799 or +1 470 250 9358 or +1 470 381 2552 or +1 646 518 9805 or +1 646 558 8656 or +1 720 928 9299 or +1 971 247 1195 or +1 213 338 8477 or +1 253 215 8782 or +1 346 248 7799 or +1 602 753 0140 or +1 669 219 2599 or +1 669 900 9128
Webinar ID: 999 9158 7914
Passcode: 626070
International numbers available: https://marylandlibraries.zoom.us/u/aD8Vpegv
Event Contact
Event Details
Thursday, January 21, 2021, 7:00 PM – 8:00 PM
Free
Add Event To Your Calendar