McGill/McHale Trio— Digital Concert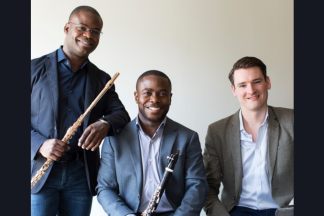 The McGill/McHale Trio's remarkable program explores dances of all kinds: from the Hungarian Furiant and the American Charleston to today's pulsating Techno. Clarinetist Anthony McGill and flutist Demarre McGill are joined by Irish pianist Michael McHale for this lush program of French and American works recorded last December at New York's 92nd Street Y, augmented with remarks and a Q&A from the artists especially for the Shriver Hall Concert Series audience. The performance will be followed by an Artist Q&A.
For our Digital Streaming Guide, go to https://www.shriverconcerts.org/about-us/streaming-guide
Please note that this concert's broadcast premiere is on Sun, Dec 6 at 5:30pm EST, followed by on-demand access through Wed, Dec 6 at 11:59pm EST. The exclusive streaming link will be emailed to all advance ticketholders on Sun, Dec 6 at 1pm EST. All ticket orders placed by 5pm EST will receive the streaming link in time for the concert premiere at 5:30pm EST. Purchases made after 5pm EST will receive the streaming link as soon as the order is processed by SHCS staff.
Event Contact
Zola Barnes
4105167164
Event Details
Sunday, December 6, 2020, 5:30 PM – 7:30 PM
4105167164
Location
Add Event To Your Calendar