Healthy Holiday Snacks & Appetizers with Caitlin Self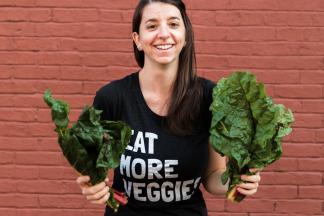 Registration required. Click here to register: https://www.airsubs.com/class_types/526/classes/1606
Enjoy a healthy holiday snacks and appetizers class with Licensed Nutritionist Caitlin Self, MS, CNS, LDN. In this snacks & appetizer class, we're making 3 delicious recipes, and learning fun ways to prepare veggies for an appetizer tray.
- Kale Chips
- Rosemary Almonds
- Magic Green Sauce
- Vegetable Crudité
Please have all vegetables clean and ready for prep at the start of the class.
a) Kale Chips
1 bunch kale (washed and somewhat dried already - for best results, I do not recommend pre-cut kale for this recipe)
1 tablespoon oil for baking - avocado oil or olive oil recommended
1 teaspoon sea salt
Equipment: 2 baking sheets
Instructions:
Preheat oven to 350ºF.
Remove kale stems.
Tear kale into bite-size pieces. Massage each piece with oil. Toss with salt and spread out onto 1-2 baking trays. Try not to overlap.
Bake on 350F for 10-12 minutes. If you remember, pop open the oven about halfway through to let any steam out for crispier chips!
b) Rosemary Almonds
2-3 teaspoons ghee or clarified butter (option substitution = olive oil)
1 cup raw almonds
1-2 teaspoons dried or fresh rosemary
1/2 teaspoon coarse sea salt
Equipment: small skillet
Instructions:
Melt ghee in a large skillet over medium heat.
Add almonds and stir to coat.
Toast almonds for 3-4 minutes, stirring frequently.
Stir in rosemary and salt and toast another few minutes, until fragrant. Watch to prevent burning and enjoy!
c) Magic Green Sauce
1 ripe avocado
1 packed cup fresh soft herbs (recommended: 1/2 cup packed parsley + 1/2 cup packed cilantro leaves )
1 jalapeño
2 cloves garlic
juice of one lime
1/2 cup water
1/2 cup olive oil
1 teaspoon salt
1/2 cup slivered almonds (can use seeds!)
Equipment: fork or potato masher, sharp knife and cutting board OR food processor
d) Vegetable Crudité
2 large carrots
6 large radishes
4 stalks of celery
1 cucumber (English or garden)
Equipment: sharp knife and cutting board, tray/board/plate for serving
DIAL-IN INFORMATION
Registration required. Click here to register to receive login information.
Event Contact
Event Details
Thursday, November 5, 2020, 5:30 PM – 6:30 PM
Free
Location
Add Event To Your Calendar