A Stain on an All-American Brand: How Brooks Brothers Once Clothed Slaves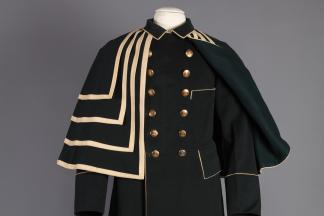 One of the most intriguing stories in Spectrum of Fashion is the discovery of livery worn by Tilghman Davis and Tom Brown, two men formerly enslaved at Hampton—the Ridgely family estate that is now a National Historic Site in Towson. The livery will be a point of departure for exploring companies such as Brooks Brothers. In the 19th century, Brooks Brothers provided garments for coachmen, footmen, and chauffeurs in wealthy households, many in the antebellum South. Like many northern commercial institutions, the celebrated clothier benefited from the institution of slavery.
Presented by Dr. Jonathan Michael Square, a writer and historian specializing in fashion and visual culture in the African Diaspora. This program is part of the Spectrum of Fashion Symposium, a free virtual series of events October 19-21, hosted by the Maryland Center for History and Culture.
Register: https://us02web.zoom.us/webinar/register/8815979551390/WN_E5iLwiKuR3yRzy...
Event Contact
MCHC Events
410-685-3750
Event Details
Monday, October 19, 2020, 12:00 PM – 1:00 PM
Free
Location
Add Event To Your Calendar