WRITERS LIVE! JON MEACHAM, HIS TRUTH IS MARCHING ON: JOHN LEWIS AND THE POWER OF HOPE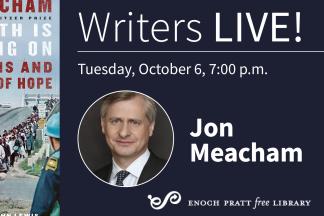 FREE tickets for Zoom Webinar or Facebook Live go on sale September 22 at 9am through EventBrite. Registration required. Click here to register.
Jon Meacham will talk about his new book, His Truth Is Marching On: John Lewis and the Power of Hope.
Drawing on decades of wide-ranging interviews with John Lewis, Jon Meacham writes of how this great-grandson of a slave and son of an Alabama tenant farmer was inspired by the Bible and his teachers in nonviolence, Reverend James Lawson and Martin Luther King, Jr., to put his life on the line in the service of what Abraham Lincoln called "the better angels of our nature." From an early age, Lewis learned that nonviolence was not only a tactic but a philosophy, a biblical imperative, and a transforming reality. At the age of four, Lewis, ambitious to become a minister, practiced by preaching to his family's chickens. When his mother cooked one of the chickens, the boy refused to eat it—his first act, he wryly recalled, of nonviolent protest. Integral to Lewis's commitment to bettering the nation was his faith in humanity and in God—and an unshakable belief in the power of hope.

Meacham calls Lewis "as important to the founding of a modern and multiethnic twentieth- and twenty-first-century America as Thomas Jefferson and James Madison and Samuel Adams were to the initial creation of the Republic itself in the eighteenth century."
Jon Meacham is a Pulitzer Prize–winning biographer. The author of the New York Times bestsellers Thomas Jefferson: The Art of Power, American Lion: Andrew Jackson in the White House, Franklin and Winston, Destiny and Power: The American Odyssey of George Herbert Walker Bush, and The Soul of America, Meacham holds the Carolyn T. and Robert M. Rogers Chair in the American Presidency and is a distinguished visiting professor at Vanderbilt University. He is a contributing writer to The New York Times Book Review, a contributing editor to Time, and a fellow of the Society of American Historians.
Send questions for Jon Meacham to [email protected] by October 5, to be answered during the live program.
ASL interpretation will be available to attendees.
Visit https://www.theivybookshop.com/ to order your copy of His Truth Is Marching On: John Lewis and the Power of Hope.
Thank you to our program supporters: The Ruth Enlow Library, Talbot County Free Library, Carroll County Public Library, Prince George's County Memorial Library System, Kent County Public Library, Worcester County Library, Anne Arundel County Public Library, Howard County Library System.
Writers LIVE programs are supported in part by a bequest from The Miss Howard Hubbard Adult Programming Fund.
DIAL-IN INFORMATION
Check back for the virtual login information.
The conversation will also be broadcasted on the Enoch Pratt Free Library Facebook page.
Event Contact
Event Details
Tuesday, October 6, 2020, 7:00 PM – 8:00 PM
Free
Location
Add Event To Your Calendar