Tracing the Life of Frederick Douglass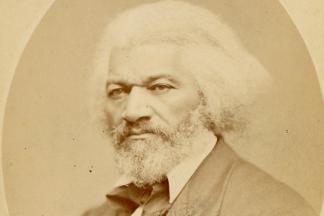 During this live, interactive distance learning program, children and families will learn about the life of Frederick Douglass. By examining primary sources from the Maryland Center for History and Culture's collections, participants will gain a deeper understanding of the living and working conditions experienced by enslaved Africans and African Americans. From slavery to freedom, participants will gain a better understanding of Douglass' incredible life and legacy.
Presented as part of Doors Open Baltimore 2020 in collaboration with the Baltimore Architecture Foundation.
Register: https://us02web.zoom.us/webinar/register/6715983825281/WN_I33PUuZwS_ykKT...
By registering for this program, you will be automatically subscribed to the Maryland Center for History and Culture's e-newsletter. You can opt out at any time.
This virtual program is free and open to all audiences. Registration is required. After registering for the webinar, attendees will receive an automated confirmation email with connection instructions.
Event Contact
MCHC Events
410-685-3750
Event Details
Tuesday, October 6, 2020, 10:00 AM – 11:00 AM
Free
Location
Add Event To Your Calendar