Writers LIVE! Charlie Duff, The North Atlantic Cities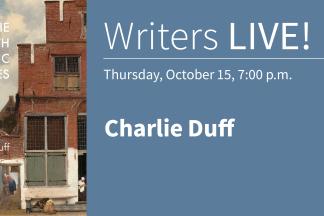 From Amsterdam in 1600 to London and Washington today, the people who live beside the North Atlantic Ocean have built cities with row houses. But why? Why do London and Washington have row houses while Paris and Minneapolis do not? With this question, Charles Duff began his exploration of the world's row house cities.
The result is a new book, The North Atlantic Cities. It takes readers on a journey that begins in Holland in the 1600s and ends in the US, the UK, Ireland, and the Netherlands in the present. Through Duff's lively prose and 180+ pictures, we watch as the North Atlantic cities grow, become beautiful, and invent many of the things we take for granted today: parks, mass transit, downtowns, even suburbia. These are great stories, well told and well illustrated.
Writers LIVE programs are supported in part by a bequest from The Miss Howard Hubbard Adult Programming Fund.
Re-opening activities are made possible in part by a generous gift from Sandra R. Berman.
DIAL-IN INFORMATION
Please click the link below to join the webinar:
https://marylandlibraries.zoom.us/j/97333491467?pwd=dlZpSnBiWlE3TlptNG9v...
Passcode: 229178
Additional dial-in details can be found on the event page.
Event Contact
Tracy Dimond
Event Details
Thursday, October 15, 2020, 7:00 PM – 8:00 PM
Free
Location
Add Event To Your Calendar