Tuesday Tunes: 50 Foot Woman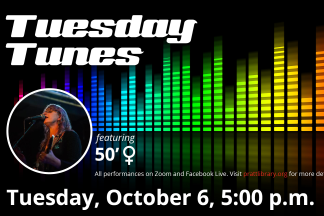 50'♀ (50 Foot Woman) is the musical persona of intermedia artist Rahne Alexander. The acoustic performance will include a mix of elements from pop, country, rock and other genres. More information about Rahne can be found at rahne.com/music & Facebook.com/50FtWmn.
DIAL-IN INFORMATION
Join Zoom Meeting
https://zoom.us/j/94846781821?pwd=RHNYZSsrZ1c1amtRTExDNHgzNnlnZz09
Additional dial-in details can be found on the event page.
Event Contact
Tracy Dimond
Event Details
Tuesday, October 6, 2020, 5:00 PM – 6:00 PM
Free
Location
Add Event To Your Calendar