Voices of Carmen Virtual Video Production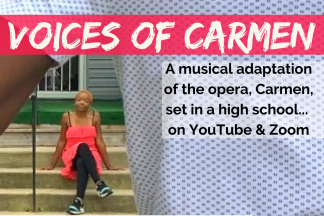 Voices of Carmen - A Musical Adaptation of the opera, Carmen, set in a high school...on Zoom.
The culmination of Voices of Carmen 2020 five week summer program is a Virtual Video Production! Join us for the premier Thurs, Sept 3rd at 7:30PM!
Experience Voices of Carmen with theater lovers from around the nation during this live streamed production via Zoom or YouTube.
Learn More & RSVP Here: https://voicesofcarmenvirtualvideoproduction.eventbrite.com
Watch the Process! 5 Weeks of rehearsals and production
Event Contact
Dance and Bmore
4108718322
Event Details
Thursday, September 3, 2020, 7:30 PM – 8:30 PM
4108718322
Free
Location
Add Event To Your Calendar
What Others Are Saying
It was an amazing performance and was put together very well. The distance didn't prevent the story from going on which was truly remarkable. I loved how it played out and enforcing the social distancing actually made the performance much more entertaining. - Audience Member from Drive In Performance