Writers LIVE! Mary Rizzo, Come and Be Shocked: Baltimore Beyond John Waters and The Wire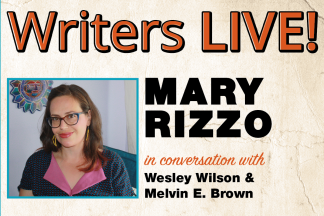 FREE tickets for Zoom Webinar or Facebook Live go on sale September 8 at 9am. Click here to register.
Mary Rizzo will be in conversation with Wesley Wilson and Melvin Brown.
In Come and Be Shocked, Mary Rizzo examines the cultural history and racial politics of these contrasting images of the city. From the 1950s, a period of urban crisis and urban renewal, to the early twenty-first century, Rizzo looks at how artists created powerful images of Baltimore. How, Rizzo asks, do the imaginary cities created by artists affect the real cities that we live in? How does public policy (intentionally or not) shape the kinds of cultural representations that artists create? And why has the relationship between artists and Baltimore city officials been so fraught, resulting in public battles over film permits and censorship?
To answer these questions, Rizzo explores the rise of tourism, urban branding, and citizen activism. She considers artists working in the margins, from the East Baltimore poets writing in Chicory, a community magazine funded by the Office of Economic Opportunity, to a young John Waters, who shot his early low-budget movies on the streets, guerrilla-style. She also investigates more mainstream art, from the teen dance sensation The Buddy Deane Show to the comedy-drama Roc to the crime show The Wire, from Anne Tyler's award-winning book The Accidental Tourist to Barry Levinson's movie classic Diner.
Mary Rizzo is an assistant professor of history at Rutgers University–Newark. She is the author of Class Acts: Young Men and the Rise of Lifestyle and founder of the Chicory Revitalization Project.
Melvin E. Brown was born and raised in Baltimore, Maryland. He attended Columbia University and is a graduate of the Johns Hopkins Writing Seminars. He was the longest serving editor of Chicory Magazine published by the Enoch Pratt Free Library's Community Action Program (1966-1983). Melvin is a former faculty member at Sojourner Douglass College and Towson University, where he taught African American Literature and Creative Writing.
Send questions for the panelists to [email protected] by September 21, to be answered during the live program.
Visit https://www.theivybookshop.com/ to order your copy of Come and Be Shocked.
Writers LIVE programs are supported in part by a bequest from The Miss Howard Hubbard Adult Programming Fund.
The conversation will also be broadcasted on the Enoch Pratt Free Library Facebook page.
Event Contact
Tracy Dimond
Event Details
Tuesday, September 22, 2020, 7:00 PM – 8:30 PM
Free
Location
Add Event To Your Calendar