Made in Baltimore Short Film Fest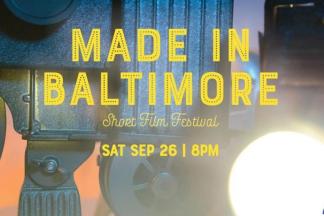 Made in Baltimore Short Film Festival
SAT SEP 26 | 8PM
Call For Submissions
SUBMIT YOUR FILM HERE: https://filmfreeway.com/MadeInBaltimoreShortFilmFestival2020
This festival honors and awards the best filmmakers in the Greater Baltimore region. We'll select short films that push the envelope and inspire audiences to view film and video through a uniquely Baltimore lens. Made In Baltimore will accept fiction, documentary, animation, experimental, horror, mockumentary—you name it! Submissions will be judged on technical excellence, originality, and Baltimore flavor. Those who live, work, or study in Baltimore are encouraged to submit.
All Submissions Due by AUG 15
Festival Screening Date: SAT SEP 26, 2020
Films selected to be in this film festival will each be awarded cash prizes!
Submission Rules
All films may be submitted between MAY 15 and AUG 15, 2020
Films should be no longer than 20 minutes.
All films not in the English language must have English subtitles.
Films are suitable for public viewing.
You must own the rights to your film.
Filmmaker must live, work, or go to school in the Baltimore area.
Film must have been finished no earlier than 2017.
https://www.creativealliance.org/events/2020/made-baltimore-short-film-f...
Event Contact
Event Details
Saturday, September 26, 2020, 8:00 PM – 11:00 PM
Add Event To Your Calendar