Creative Allies: Creativity | Conversations I Community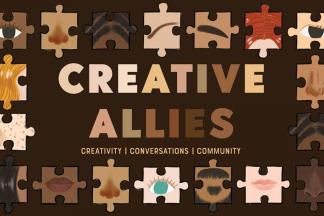 Hosted by s. Rasheem
FREE | Facebook Live
Dieter F. Uchtdorf had it right, "The desire to create is one of the deepest yearnings of the human soul. No matter our talents, education, backgrounds, or abilities, we each have an inherent wish to create something that did not exist before."
On the last Friday of every month at 5pm Rasheem engages with the imagination, insights, and unique perspectives of creatives. The show gives particular attention to creatives that are community-focused and actively engaged in leveraging their creativity to make a difference. The show explores the utility and effectiveness of ART as an instrument of social change. If you are a creative or are interested in finding meaningful ways to connect, collaborate, and or learn from other creatives about how to leverage your creativity to do more good, then this show is for you. Join the conversation LIVE from Creative Alliance's Facebook page. We want to hear from you.
Event Contact
Creative Alliance
Event Details
Friday, October 30, 2020, 5:00 PM – 6:30 PM
Repeats monthly on August, September, October on the last Friday 4 times.
Free
Location
Add Event To Your Calendar