Mermaid Strawberry Blonde Ale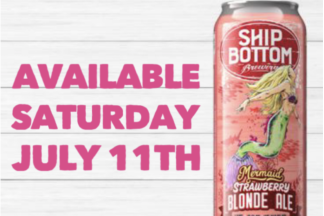 Ship Bottom Brewery is offering a special limited edition Mermaid Strawberry Blonde Ale at Linvilla Orchards on Saturday July 11, 2020 at noon! Ship Bottom added over 300 pounds of Linvilla's freshly picked strawberries to have the juiciest, berry flavored Blonde Ale. It's an easy-drinking summer ale that is visually appealing and has no bitterness. You'll experience a slight sweetness from the malt and notes of toasted bread, biscuit and wheat.
Mermaid Strawberry Blonde Ale is available for $14 per 4 pack in the Beer Garden. Only 20 cases are available with a limit of (2) 4 packs per customer. Dip your tail into Ship Bottom's Blonde Ale!
Event Contact
Event Details
Saturday, July 11, 2020, 12:00 AM – 12:00 AM
Location
Add Event To Your Calendar