Now See Hear: Amplifying Creative Voices & the Vote at Make Studio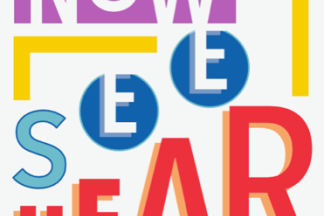 "Now See Hear" consists of multi-sensory artworks by 5 members of Make Studio in collaboration with 5 guest artists (all 2020 Sondheim applicants). Drawings, songs, collages, poems, paintings, and videos produced by these creative co-conspirators bring all senses into play and into the conversation. The exhibition can be viewed online at www.make-studio.org, with a selection of pieces on view as window displays at Make Studio's gallery in Hampden, July 7th through August 7th.
2020 marks the 100th anniversary of women's suffrage and the 19th amendment and the 30th anniversary of the Americans with Disabilities Act on July 26th. In recognition of these momentous political acts, we celebrate our increased access to representation and power, while knowing that there are still so many votes and voices that are left out.
We use art to link voters with resources on how to register, connect with accessible voting supports (e.g., large-print ballots and online voting), and find information about candidates. During National Disability Voter Registration Week, July 13-17th, be sure to check out concurrent events from our partners at Disability Rights Maryland.
"Now See Hear" grabs the audience by the lapels and calls for due attention to women's creative power.
Event Contact
Erin Barach
4106423055
Event Details
Tuesday, July 7, 2020, 12:00 AM – Friday, August 7, 2020, 12:00 AM
Free
Location
Add Event To Your Calendar