Unlocking the Exhibition: Between the Seams of Spectrum of Fashion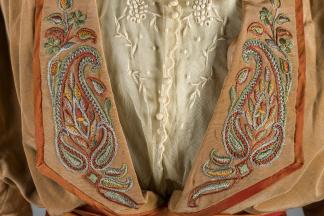 How does padding in an 1840s dress expose a case of scoliosis? Why did someone leave a sleeve cuff unfinished on a dress worn to George Washington's inaugural ball? What do trimmings reveal about a technological revolution in the nineteenth century?
Close examination of a garment can reveal undiscovered stories. On July 16, grab a drink and join the conversation with MdHS Digital Learning Specialist, Ashlee Anderson, and our resident dress detective and Curatorial Assistant, Emily Bach, at our virtual program Between the Seams: Unlocking the Spectrum of Fashion Exhibition, to catch a rarely seen, intimate glimpse of pieces on exhibition.
Register: https://us02web.zoom.us/webinar/register/7915931089883/WN_cjiei_SCR3ekEe...
This virtual program is free and open to all audiences. Registration is required. After registering for the program, attendees will receive an automated confirmation email with connection instructions. We will connect via Zoom which, is available for free download here: https://zoom.us.download. 
Event Contact
MdHS Events
410-685-3750
Event Details
Thursday, July 16, 2020, 4:00 PM – 5:00 PM
Free
Location
Add Event To Your Calendar