Women Heal through Rite and Ritual – Online Exhibition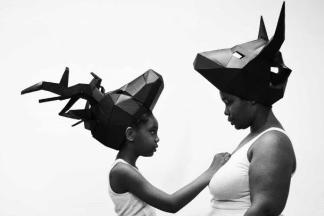 Women Heal through Rite and Ritual draws from the imaginative narratives of artists Lavett Ballard, Tawny Chatmon, Oletha DeVane, Shanequa Gay, Delita Martin, Elsa Muñoz and Renée Stout who look to non-Western traditions for inspiration in exploring a woman's role as nurturer of family and community; and as traditional healer, conjure woman, and clairvoyant who dwells in both the physical and spiritual realms.
Conveyed through visceral imagery—manifested in paintings, prints, photography, and sanctuaries are the artists' cultural, social, spiritual, and political commentaries on the rites of womanhood, and an intimate and compelling testament to the essence of the divine feminine and self.
As giver of life, custodian of traditional African religion and customs, preserver of culture, counselor, and psychologist, and at times, the conduit between two worlds, Women Heal through Rite and Ritual celebrates and reclaims a woman's power and place in the natural and supernatural worlds.
As the COVID-19 (coronavirus) continues to permeate every aspect of our lives, we recognize the need to take preventative measures in order to ensure the safety of our staff, our artists, and our patrons. While the gallery remains closed, we offer an online version of our current exhibition Women Heal through Rite and Ritual. We are planning to hold the opening reception and artist talk in the future. However, because of the fluidity of the situation, no date will be announced at this time. Until then enjoy the online exhibition!
Event Contact
Galerie Myrtis
Event Details
Ongoing
Free
Add Event To Your Calendar