Virtual Exhibition - As It Should Be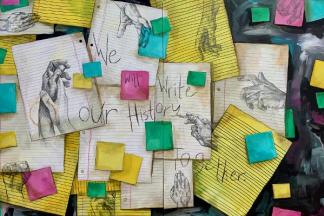 As It Should Be asked artists to imagine what tomorrow brings. If artists had the power to wake in the morning and have the perfect day, have all problems in the world be solved then what would the world look like? "The artist" is often written off as someone who doesn't understand how the world works and whose ideas have no basis of reality within the current system. What is misunderstood in these moments is that the artist can simultaneously hold the world as it is and the world as it should be. The cognitive dissonance between these two worlds is the space where the artist thrives. Artwork provides a vision of how to get from where we are to a more just and sustainable future.
This exhibition was curated by Sarah McCann, and planned in conjunction with Rising Up! an education program of the Modell Lyric that facilitates performance programs with middle school students and community centers across Baltimore City. The exhibition was originally scheduled to be held at Gallery CA, March 26 - April 23, 2020.
Due to the ongoing impact of the COVID-19 outbreak and the closure of all schools and non-essential businesses in the state of Maryland, the exhibition was not installed at Gallery CA as planned. Instead, this webpage was created to highlight the talented group of artists included.
Event Contact
Event Details
Ongoing
Free
Add Event To Your Calendar