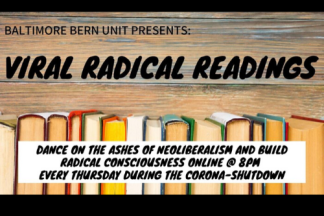 We are excited to announce the Bern Unit's new radical reading collective!! What better way to dance on the ashes of the old world run by billionaires and sweep them into the dustbin of history than to strengthen community knowledge! Join our new reading group and discuss how to build collective power in the time of coronavirus and beyond (we have so much material to work with!) We'll be tackling readings and videos from thinkers across the globe and brainstorming practical application in this incredible moment in human history. Our reading group is for everyone at any level of political education, of any background or ideology. Please be respectful and try to meet people where they're at!
Sign up to lead a talk or suggest readings in this google doc:
https://docs.google.com/document/d/1BibHXb97rcccwz4mhUBBqpzZqniZSbdBmJnO...
Paolo Friere's "Society in Transition" from Education for Critical Consciousness (pg 10-12)
linked here: http://abahlali.org/wp-content/uploads/2012/08/Paulo-Freire-Education-fo...
Video link: https://www.youtube.com/watch?v=3X22IvydXqc
Google Hangout Link here: Meet.google.com/eeg-mxar-pmk
We have moved a ton of our organizing online to make sure community members can stay safe while they stay involved. Please get in touch with us here or via email:
Event Contact
Bern Unit
Event Details
Ongoing
Free
Add Event To Your Calendar