Twisted Knickers Burlesque Valentine's Day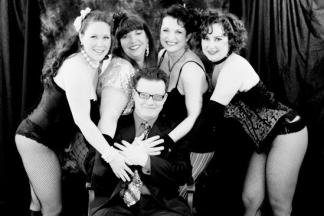 Celebrate Valentine's Day with a special evening of live music and burlesque. Performing will be Twisted Knickers' producer and Germano's regular, Tapitha Kix. She's joined by Twisted Knickers regulars Tempette La Coeur and Caza Blanca. Making their Germano's debut will be Delilah Dentata and Bebe Bardot from Washington, D.C. Hot Todd Lincoln returns as our emcee with his quick wit and feats of strength and hunky Dirk Hamfist will be around to keep the stage ready. This will be a chance to truly enjoy a burlesque show in a unique setting. Unlike a traditional stage show, in Germano's intimate cabaret setting, the performers dance, shimmy and mingle among the audience. Watch out for flying gloves and boas!
Providing the music for the night is the bitter, salty, savory and sweet sounds of Baltimore band Umami. Umami is Scott Shuster on guitar and Melissa Ultra Sharlat on drums, both singing their hearts out to impossibly cute renditions of songs from the 50s to the 80s we all grew up on. Learn more about the duo at: https://www.facebook.com/pg/umamitheband.
Event Contact
Keith Dietterle
4107524515
Event Details
Saturday, February 15, 2020, 6:00 PM – 9:30 PM
4107524515
Location
Add Event To Your Calendar