Bach in Baltimore: Music of the Gods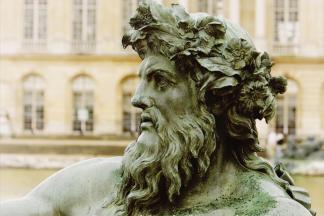 BEYOND BACH CONCERT SERIES
Music of the Gods
September 15 at 4 pm
Church of the Redeemer, Baltimore
Handel's Water Music (Suite No. 2)
Beethoven's Egmont Overture, Op 84
Mozart's Symphony 41 in C major, "Jupiter" Symphony
The Bach in Baltimore Orchestra opens its first BEYOND BACH Series Concert: Music of the
Gods with Handel's ebullient Water Music. This spirited and stately work for horns, oboes,
bassoon, strings, and continuo is fit for the gods and goddesses atop Mount Olympus. Handel
composed it for a concert on the River Thames for King George I. After such royal fanfare, the
music will turn fiery and call to mind the Roman God of War, Mars with Beethoven's Egmont
Overture, Op. 84. Composed during the Napoleonic Wars after Napoleon Bonaparte crowned
himself Emperor in 1804, Beethoven's blistering work expresses his political outrage over
Napoleon's overreach of power. The "Sturm und Drang" will continue with Mozart's
monumental Symphony 41 in C major or the "Jupiter" Symphony. Mozart's masterpiece, coined
for the Roman God, Jupiter opens with a thunderous clap of strings and horns that builds to a
finale of fireworks of breathtaking sound. The "Jupiter" Symphony is Mozart's longest and last
symphony, and it stands not just as one of Mozart's greatest musical achievements, but as one of
the most awe-inspiring compositions of Classical music.
Tickets: $30 Regular / $32 Door or $55 for Beyond Bach Concert Series Pass
Event Contact
Bach in Baltimore
410-941-9262
Event Details
Sunday, September 15, 2019, 4:00 AM – 5:30 PM
4109410926
1
Offer good
09/11/19

to

09/14/19
Redemption Instructions
Use promo code at checkout GBCA30
Location
Add Event To Your Calendar