Spectrum: 2019 Visual Arts Faculty Exhibition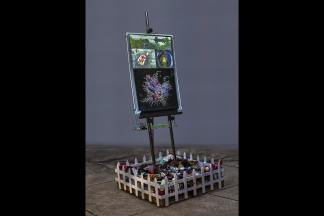 UMBC's Center for Art, Design and Visual Culture (CADVC) presents Spectrum: 2019 Visual Arts Faculty Exhibition, featuring artworks by Dan Bailey, Steve Bradley, Cathy Cook, Jules Rosskam,Evan Tedlock, and Vin Grabill. Spectrumprovides an in-depth exploration of recent research projects in film, video, photography, sound, installation, and sculpture by selected members of UMBC's Department of Visual Arts.
An opening reception will be held on Thursday, September 5, from 5 to 7 p.m., and the gallery will open for regular hours on Friday, September 6.
The artists featured will present a series of talks on their works in the gallery, times to be announced.
Admission to the exhibition and all related events is free.
The gallery is open Tuesday through Saturday from 10 a.m. to 5 p.m.
Event Contact
Event Details
Thursday, September 5, 2019, 5:00 PM – 7:00 PM
Repeats weekly Tuesday and Wednesday and Thursday and Friday and Saturday -- until Saturday October 5, 2019.
Free Admission
Location
Add Event To Your Calendar