Christina Van Norman & The Pyle Brothers: Roots Cafe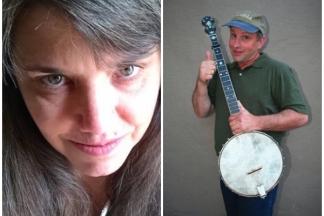 An Evening of Comedy & Romance
Christina Van Norman, the Pyle Brothers,
Geoffrey Himes & Willem Elsevier
The Roots Café believes that funny songs can have the same artistic value as serious songs, that Arlo Guthrie's "Alice's Restaurant Massacre" can reveal human nature as effectively as Woody Guthrie's "This Land Is Your Land." To prove this point, three of Maryland's top songwriters—Christina Van Norman, Bob Pyle and Geoffrey Himes—will join instrumentalists Willem Elsevier and Dewey Pyle in an evening of songs both comical and tragical.
Washington native Christina Van Norman has been playing her guitar and singing around the Baltimore-Washington area for over twenty years now. She has played with numerous bands including the Beltway Bandits, Edge City, Billy Kemp and the Paradise Rockers, Anonymous Bosh, as well as with her current band Cryin' Fridays.Christina enjoys writing songs about the rain, her dogs, love, conspiracy, and the miserable state of the world. https://www.facebook.com/ChristinaVanNorman?fref=ts
Baltimore's Bob and Dewey Pyle, known as the Pyle Brothers, have performed their originals at old-time-music festivals up and down the East Coast. Bob has penned songs of social commentary such as "Frank Perdue" as well as songs of comical commentary such as " I Like Everything at Starbucks Except the Coffee" and "I Wrote the Songs that Barry Manilow Sings." His song, "When J Edgar Hoover Wore a Dress," was voted one of the 25 funniest songs of 2012 by Dr. Demento. Bob sings and plays clawhammer banjo in the style of Uncle Dave Macon, while his brother Dewey plays guitar and sings harmony. https://www.facebook.com/bob.pyle.10
Though he is best known as a music critic for the Washington Post, Baltimore City Paper, Nashville Scene, Jazz Times, No Depression, Paste and others, Geoffrey Himes is also a longtime singer-songwriter who has co-written songs with Fred Koller, Walter Egan, Si Kahn, Sonia Rutstein, Billy Kemp, Stephen Wade, Jim Patton, Ken Kolodner, Andrew Grimm, Bob Kannenberg and others. Himes, a singer-pianist, performs in a duo with Love Riot violinist Willem Elsevier. This month Himes will premiere a new song, "The Coffin and the Seed." http://www.facebook.com/RootsCafeBaltimore
Willem Elsevier is a trained violinist who has found success in both the classical and jazz worlds. He is best known, however, for his role in Love Riot, the Baltimore rock band that recorded with producer Eric Ambel and toured widely. Elsevier's sophisticated solos helped the band beat out 2,500 other bands from around the globe to win the Yamaha Music Quest competition in Japan in 1994. Elsevier has also recorded with such acts as Billy Kemp and Milkshake. Since 2012, he has been performing and songwriter in a duo with Geoffrey Himes.
$10 in advance/$13 at door
Event Contact
Event Details
Sunday, August 25, 2019, 5:00 PM – 7:00 PM
Location
Add Event To Your Calendar