LOVE LETTERS - Spotlighters Fund Raiser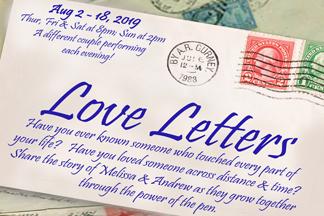 LOVE LETTERS
​- a Fund Raiser for Spotlighters Theatre
by AR Gurney
Produced by Fuzz Roark, in special arrangement with Dramatists Play Service
​with assistance from Sharon Weaver
​​. . . the notes, letters and cards – in which over nearly 50 years, they discuss their hopes and ambitions, dreams and disappointments, victories and defeats – that have passed between them throughout their separated lives.
Each performance presented by a different Baltimore "Theatre Couple"
Visit www.spotlighters.org/love-letters for a list of performers by evening.
Aug 2 - Aug 18, 2019
Thur, Fri, & Sat at 8pm; Sun at 2pm
Order your tickets at www.spotlighters.org/love-letters
Adults: $24; Seniors, Students & Military: $21
Event Contact
Fuzz Roark
Event Details
Repeats weekly Thursday and Friday and Saturday -- until Sunday August 18, 2019.
Repeats weekly Sunday -- until Monday August 19, 2019.
Location
Add Event To Your Calendar