The HUGO Ball: A Dada Soiree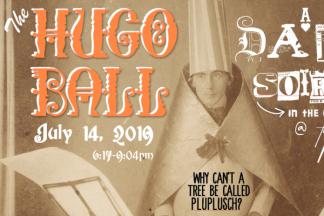 "How does one achieve eternal bliss? By saying dada. How does one become famous? By saying dada." -Hugo Ball, Dada Manifesto, 1914
Artist Hugo Ball first read his Dada Manifesto on July 14, 1914 at the first Dada Soiree in Zurich.
Join us on the 105th anniversary of the birth of Dada to celebrate this anti-art movement, which gave rise to the avant-garde.
The Hugo Ball will be held in the historic garden at the Peale, and will feature amusements, delights, and surprises.
Dada or Surrealist attire is strongly encouraged.
6:17pm – 9:04pm
TICKETS:
Artists, Poets and other Revolutionaries – $19.14
Everyone Else – $24.78
R. Mutt Supporter Ticket – $36.54
$26.14 at the door. Exact change only.
Event Contact
Nancy Proctor
3016426257
Event Details
Sunday, July 14, 2019, 6:15 PM – 9:00 PM
Location
Add Event To Your Calendar