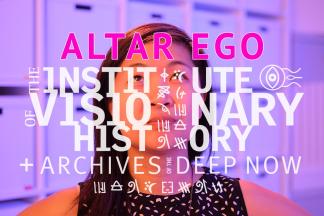 Altar Ego is a completely self-contained 45-60 minute multi-sensory experiences for a group of up to five people. You are invited to a unique house party to learn more about your "model citizen" Vietnamese-American neighbor, and explore the boundaries between home and not home. There may be ghosts, there may be squirrels. (Actualized by Kim Le.)
Five dates only! July 6th, 7th, 17th, 20th, 21st. Staggered entry times. Be sure to arrive 15 minutes prior to your scheduled entry time.
Please note: you will be required to ascend and descend at least two staircases at a relaxed pace. Incense will be burned in your presence and food will be served with eating optional. Plan to arrive a full fifteen minutes before your scheduled start time and to spend about an hour (or more if you choose) at The Peale. Beverages and light snacks will be available (donations appreciated). Restrooms will be accessible before and after the experience. Coat racks and safe storage for bags will also be available.
Event Contact
Submersive Productions
Event Details
Saturday, July 6, 2019, 5:00 PM – 6:00 PM
Saturday, July 6, 2019, 5:45 PM – 6:45 PM
Saturday, July 6, 2019, 6:45 PM – 7:45 PM
Saturday, July 6, 2019, 7:30 PM – 8:30 PM
Sunday, July 7, 2019, 2:00 PM – 3:00 PM
Sunday, July 7, 2019, 3:00 PM – 4:00 PM
Sunday, July 7, 2019, 3:45 PM – 4:45 PM
Sunday, July 7, 2019, 4:30 PM – 5:30 PM
Wednesday, July 17, 2019, 7:00 PM – 8:00 PM
Wednesday, July 17, 2019, 7:45 PM – 8:45 PM
Wednesday, July 17, 2019, 8:30 PM – 9:30 PM
Saturday, July 20, 2019, 5:00 PM – 6:00 PM
Saturday, July 20, 2019, 6:00 PM – 7:00 PM
Saturday, July 20, 2019, 6:45 PM – 7:45 PM
Saturday, July 20, 2019, 7:30 PM – 8:30 PM
Sunday, July 21, 2019, 3:00 PM – 4:00 PM
Sunday, July 21, 2019, 3:45 PM – 4:45 PM
Sunday, July 21, 2019, 4:30 PM – 5:30 PM
Location
Add Event To Your Calendar
What Others Are Saying
"Submersive Productions has weaved a story together that is rich with culture, family and discovery. It had heart, stillness, excitement and uncertainty. [Altar Ego] was magical and the experience moved me." -bitrsisters.com