DAVID DEBOY AND THE HONS IN "CRABS FOR CHRISTMAS"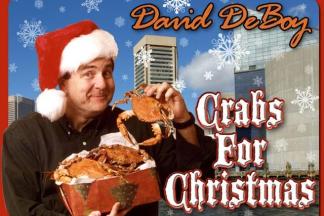 The Rockettes may be coming to Baltimore, but at the Cabaret at Germano's we are celebrating Christmas Bawlmer style. It's a Crazy Carnival of Crabby Christmas Carols, audience participation, surprises and fun for all ages. David DeBoy will be performing hits from his album "Crabs For Christmas for Twenty Years" plus premiering new songs. Joining David will be Da Hons and special guest, David Zee, an award-winning composer, recording artist and performer with national credits.
Celebrate the season like a true Balti-moron.
Event Contact
Cyd Wolf
4107524515
Event Details
Sunday, December 15, 2019, 6:00 PM – 9:15 PM
4107524515
Location
Add Event To Your Calendar