OPUS CONCERT THEATRE PRESENTS "AMAHL AND THE NIGHT VISITORS"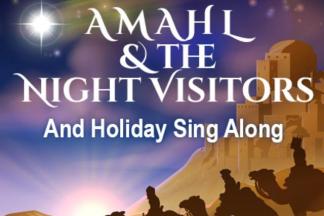 Opus Concert Theatre proudly presents Gian Carlo Menotti's "Amahl and the Night Visitors". A poor widow and her young disabled son, Amahl, are on the verge of starvation, when a knock at the door reveals Three Kings, each bearing gifts as they follow the star in the East. When Amahl and his mother learn the purpose of their journey, lives are changed forever. Sung in English, the show includes an entertaining pre-show Lecture, the 1 hour opera and then we all enjoy a Holiday Favorites Sing-A-Long!
Let us be a part of your Joyous Holiday Celebrations.
CAST
Amahl - Elena Wenderoth
Mother/Artistic Director - Diana Cantrelle
King Kaspar - Leroy Smith
King Melchior - Matthew Ogden
King Balthazar - Dimitri Tchienga
Page - Stanley Livengood
Director/Producer - Kevin Crysler
Maestro - Jordan Randall Smith
Concert Pianist - Aejin Kim
Opus Concert Theatre Ensemble Singers
Brunch seating at noon. Performance begins at 1pm.
Event Contact
Cyd Wolf
4107524515
Event Details
Sunday, December 15, 2019, 12:00 PM – 3:00 PM
4107524515
Location
Add Event To Your Calendar