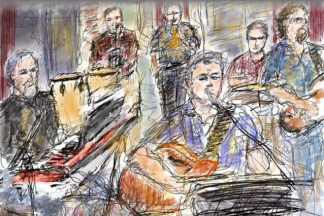 Annapolis-based act Kings of Crownsville are a roots Rock band with a New Orleans flavor. The brainchild of New Orleans-raised guitarist/singer/songwriterSteve Johnson, the Kings play a rollicking, entertaining set that stirs Americana, Blues, and Jazz into the mix.
Their signature horn section transports listeners to the streets of the Big Easy, while they also add precise three- and four-part harmonies to their musical gumbo. Think Louis Armstrong meets Steely Dan.
The Kings of Crownsville features Johnson backed by Ed Justice on trumpet, flugelhorn and vocals; Jim Tavener on trombone, percussion, and vocals; Mike McCormick on keyboards and vocals; David Vermette on bass and vocals; and Rob Creath behind the drums. Johnson's songs are destined to become classics.
"Homegrown Americana boogie blues and big band rockin' swing jazz is a chunky description of the Kings. The 6-piece band lends guitar, bass, drums, piano, trumpet, trombone, and vocal harmony. The result is a robust, polished sound that makes for easy toe-tapping and dancing."
Stephen Perraud. The Live Wire. June 2011
Event Contact
Cyd Wolf
41075245115
Event Details
Saturday, November 16, 2019, 6:00 PM – 9:15 PM
4107524515
Location
Add Event To Your Calendar