AN EVENING WITH THE LARRY BROWN QUARTET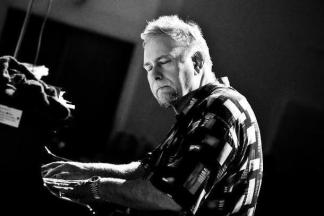 Pianist Larry Brown leads one of the most accomplished straight-ahead jazz groups in the Mid-Atlantic area.
JazzReview.com describes The Larry Brown Quintet as "Straight-ahead jazz at its best, with a forthright approach to well chosen material, supported by first rate soloists and a rock-solid rhythm section." The group's four CDs receive airplay all over the country, as well as in Brazil, Canada, Russia, and Japan. The band, which reprises the hard-bop style of the legendary Blue Note era, was recognized by the Washington Area Music Association (WAMA) as the Best Jazz Group for 2009. The group's celebrated release, "Hard Bop Café" was recognized by WAMA as the Best Jazz Recording for 2006 with a Wammie award.
As an undergraduate at Towson University, Larry studied with Stan Kenton's favorite arranger/composer, Hank Levy. He performed with and composed for the lauded Towson University Jazz Ensemble. With a Bachelors Degree in Music Theory Larry attended graduate school at Catholic University, where he received his Master of Music degree after studying Composition and Electronic Music with the legendary Emerson Myers.
Recognized with Wammie Awards for Best Jazz Group for 2006, 2008, and again for 2009, Larry also received a Wammie for Best Jazz Recording in 2002 for his CD "The Long Goodbye", recorded at National Public Radio, npr.Larry has appeared on the national jazz cable channel BET On Jazz show "Jazz Discovery" where he won in the instrumentalist category, and has appeared on their show "Jazz Scene" as a featured artist. Larry has also received several Wammie nominations for Best Jazz Instrumentalist, and Best Jazz Recording ("Peace", "Dryden Street Sessions").
The Larry Brown Quintet features Larry Brown on piano, Kent Miller on bass, Greg Holloway on drums, Thad Wilson on trumpet, and Peter Fraize on tenor sax. Larry records exclusively on Lush Life Records and his recordings are produced by Jerry O'Sullivan.
Washingtonian magazine says, "Larry Brown is a pianist whose rendering of ballads is particularly moving". The Washington Post calls him "an artist deserving of greater exposure" and says Brown "evokes the master touch".
Event Contact
Cyd Wolf
4107524515
Event Details
Saturday, November 9, 2019, 6:00 PM – 9:15 PM
4107524515
Location
Add Event To Your Calendar