AN EVENING WITH ITALIAN JAZZ MASTER DARIO CHIAZZOLINO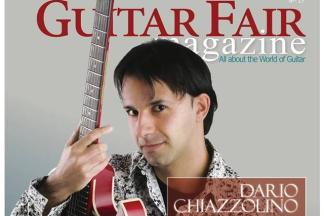 Dario Chiazzolino is a multi-award winning Italian guitarist and composer based in New York City. One of Italy's most in-demand jazz musicians, he performs regularly and records with many top European and American jazz musicians.
Dario Chiazzolino has performed in many of the most prestigious Festivals and clubs in jazz world with Yellow Jackets, Billy Cobham, Andy Sheppard, Dominique Di Piazza, Horacio "El Negro" Hernandez, Taylor Eigsti, Willie Jones III, Bobby Watson, Bob Mintzer, Russell Ferrante, Jimmy Haslip, Enrico Rava, Stefano Bollaniand many others.
He received several awards including TheBerklee Umbria Jazz Award, as best guitarist, a nomination for Best Guitaristby the online portal Italian Jazz(2011), Artist of the Yearfor the Italian music magazine D-MAG (2012), a nomination for Best Guitaristat the web site Guitarlist(2013). He was also profiled in the ARCHIVIO CHITARRISTI JAZZ ITALIANI, a prestigious anthology of the greatest Italian jazz guitarists and won a Competition Notice to be part of Italy's famous Torino Jazz Lab(2007).
"Italian Jazz Star Dario Chiazzolino is one of the greatest guitarists of the last generation. He is internationally acclaimed thanks to his phenomenal playing and his innovative way to improvising.
He shows not only an unrivaled mastery and technique of the instrument, but also the capacity to give his performances a powerful emotive impact. He has established himself in the world of jazz with a style and musicality recognized also on the other side of the Atlantic."
Billboard ( USA )
"Dario Chiazzolino is known for his virtuosic guitar playing in the European and world jazz scenes. He has earned a reputation as a phenomenal guitarist. This rests on an appreciation of his innovative improvisational skill, which is founded on intervals of 10th, 11th and 13th notes."
Guitar World ( USA )
Event Contact
Cyd Wolf
4107524515
Event Details
Friday, October 4, 2019, 6:00 PM – 9:15 PM
4107524515
Location
Add Event To Your Calendar