Steel Magnolias - Spotlighters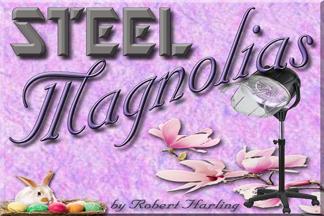 STEEL MAGNOLIAS - Spotlighters
by Robert Harling
Directed by Fuzz Roark, with Paul Saar
June 21 - July 14, 2019
Fri & Sat at 8:00pm and Sun at 2:00pm
In Truvy's beauty salon in Chinquapin, Louisiana, all the ladies who are "anybody" come to have their hair done . . . and get the latest news and gossip! The outspoken, wise‑cracking Truvy dispenses shampoos and free advice to all who will listen. Filled with hilarious repartee and not a few acerbic but humorously revealing verbal collisions, the play moves through life and tragedy, with a sense of humor, and Southern Charm.
​The sudden realization of their mortality affects the everyone, but also draws on the underlying strength - and love - which give the play, and its characters, the special quality to make them truly touching, funny and marvelously amiable company in good times and bad. These characters appear delicate as magnolia blooms, but are tough as steel.
OPENING NIGHT RECEPTION with Cast & Directors: Fri, June 21, 2019 - immediately after the show.
FUN NIGHT FRIDAY - all Friday performance tickets are just $19
TEN SPOT THURSDAY: Jun 27, 2019 All tickets for this performance just $10
TALK BACK: Sun, July 7, 2019 Post Show discussion with cast & director following the matinee performance.
Event Contact
Fuzz - James Roark
4107521225
Event Details
Repeats weekly Friday and Saturday -- until Sunday July 14, 2019.
Repeats weekly Sunday -- until Sunday July 14, 2019.
410-752-1225
1
Offer good
06/25/19

to

07/14/19
Redemption Instructions
Order online at https://www.spotlighters.org/magnolias
Use Discount Code - Juice -
Limited to 4 tickets per order, and 16 per performance
Location
Add Event To Your Calendar