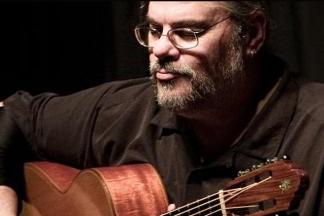 Fingerstyle Guitarist Ken Bonfield has performed throughout the United States for more than 20 years. Based in Gloucester, Massachusetts, Bonfield is a regular at guitar festivals, concert series, and acoustic venues across North America, and has released seven albums. His latest, Legacy, is a solo effort that focuses on harp and baritone guitars, with several new arrangements of original tunes Bonfield recorded on earlier albums.
Although he came out of the 1960's folk tradition, Bonfield was closely associated with new-age music in the mid 90's. Today his sophisticated Americana compositions feature a solid dose of Celtic, jazz, and traditional folk influences that might best be described as American Baroque.
In his open-hearted, welcoming concerts, workshops and master classes, he shares new guitar dimensions and sonic explorations with his listeners. His compositions are performed with his unique "chamber ensemble" of handcrafted instruments ranging from baritone guitar to an 11-string harp guitar to a high-string guitar which Bonfield likens to a 6-string, Steel-String ukulele.
Bonfield's work and calling is inspired by a deep love for the beauty, the sounds, and the craft of the acoustic guitar. Most of his compositions and arrangements utilize alternate tunings that extend the lower register of a standard guitar.
Bonfield has been a featured performer at some of the finest acoustic venues, coffee houses, music festivals, and guitar festivals in North America such as Club Passim, Eddie's Attic, Uncle Calvin's, Be Here Now, Acoustic Sounds Cafe, Kent State Folk Festival, Falcon Ridge Folk Festival, Montreal Guitar Festival, Newport Guitar Festival, and Healdsburg Guitar Festival, appearing with a wide range of icons and contemporary artists ranging from Arlo Guthrie to John Mayer, and includes songsmiths Garnet Rogers, Pierce Pettis, Dee Carstensen, Cosy Sheridan,and guitar legends Larry Corryell, Adrian Legg, Adam Miller, Ed Gerhard, Muriel Anderson, Stephen Bennett, Tim Sparks, Dakota Dave Hull, and countless others.
Ken Bonfield knocks me out. He plays with the two main ingredients I look for in a player; heart and passion. He's a player's player, and I'm a die hard fan.
John Beland, Flying Burrito Bros.
Event Contact
Cyd Wolf
4107524515
Event Details
Thursday, September 12, 2019, 6:00 PM – 9:15 PM
4107524515
Location
Add Event To Your Calendar