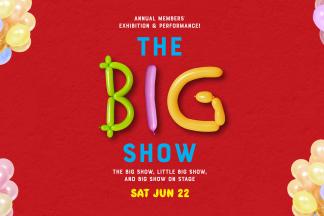 Opening Reception: SAT JUN 22 | 6-8PM
The BIG Show on Stage: SAT JUN 22 | 8PM
Members' Artwork Drop-off: THU JUN 13 - SAT JUN 15 | 11AM-7PM (each day)
The BIG Show Open Critique: WED JUL 17 | 7PM | FREE!
On View: SAT JUN 22 - SAT AUG 3
The BIG Show, little BIG Show Exhibition: Registration Form
The BIG Show on Stage Sign Up: Performer Registration
Must be an active Creative Alliance Member to register
CLICK HERE TO BECOME A MEMBER
WHAT IS THE BIG SHOW?
The BIG Show, little BIG Show, and BIG Show on Stage is our annual members' exhibition extravaganza! ANY member can contribute one work of art in this floor-to-ceiling salon-style spectacular and variety show event! All ages welcome! Be a part of the biggest BIG Show yet!!
The BIG Show proudly displays over 175 works of art by professional and novice artists alike, all of whom are current members supporting the Creative Alliance. An annual favorite for audiences and artists, The Big Show is an opportunity for Creative Alliance members to show off their visual creations and purchase affordable artworks from fellow community members. EVERY Creative Alliance member is encouraged to submit one work of art, including 2-D work under 3-feet wide, pedestal or shelf-oriented sculpture, or film/video in a DVD format. Artwork can be in any media.
Members of all ages are encouraged to participate in this members' exhibition, including youth from 10-17, who will be featured in The little BIG Show. Youth can participate for only $5 (membership for adults start at $40) and can submit one work of art to be displayed near the front of the gallery.
The Big Show on Stage is back for another year of the wildest, wackiest variety show in B'more where the performers are…you! All performance forms and styles are welcome (so long as they are suitable for audiences of ALL AGES). The Big Show on Stage is a chance for our members to show off their talent in front of the Creative Alliance community on one of the best stages in the city. Members are allowed to perform in groups with non-members. Groups MUST have at least one Creative Alliance member.
If you can do it on the stage, you can do it tonight! We welcome musicians, singers, clowns, jugglers, poets, contortionists, comedians, full band performances, and all of the other amazing talents you may have to share.
Don't miss this opportunity to show off your hidden talents, purchase completely unique and affordable works of art, and support Baltimore's premier multi-disciplinary arts organization through your continued membership.
Artwork drop-off is only 3 days long from Thursday, June 13th - Saturday, June 15th - so begin working on your masterpiece today, sign-up online for the stage, and join us on June 22nd for the opening reception and performance events!
If you have questions regarding The Big Show on Stage, contact Josh Kohn, Performance Director at [email protected]
For more information regarding The BIG Show and little BIG Show exhibitions, contact Thomas James, Visual Arts Curator at 410.276.1651 x 216 or [email protected].
Must be an active Creative Alliance Member to register
CLICK HERE TO BECOME A MEMBER
Event Contact
Creative Alliance
410-276-1651
Event Details
Saturday, June 22, 2019, 6:00 PM – Saturday, August 3, 2019, 7:00 PM
Free Admission
Location
Add Event To Your Calendar