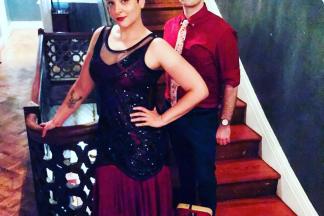 The Encounter, magicians Annie Montone and Brian Kehoe, are in residence at The Elephant!
Catch the show at 8:30 or 10:00 p.m. No tickets and no cover!
The Elephant is located in an iconic 1850's midtown mansion in the city's historic Mount Vernon neighborhood. Adorned with decorative arts by Tiffany, De Forrest, Waterford, and Rinehart, The Elephant serves globally inspired cuisine and handcrafted cocktails with a vibe that is chic and casually elegant.
The Encounter performs upstairs in the Chandelier Lounge (the "Living Room"). Magician Jacob Greenwald performs table magic before and after the shows.
Event Contact
Annelise Montone
4439295168
Event Details
Repeats weekly Friday -- until Tuesday December 31, 2019.
Free
Location
Add Event To Your Calendar
What Others Are Saying
Baltimore: Please please please do yourselves a favor and go see The Encounter perform at The Elephant on Friday night. Then tell your friends to go check it out any other Friday this month. Cards, spirit summoning, psychometry, and possible injury from broken glass bottles are all part of this act. Did I mention it's free?