Oletha DeVane: Traces of the Spirit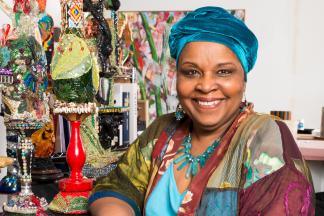 Projected lights, sounds, and reflective surfaces convey a sense of flowing water in Oletha DeVane's installation, Traces of the Spirit, presented inside the BMA's Spring House. The exhibition references the building's past as a dairy and place where enslaved people were forced to labor and creates an altar-like location for a selection of the artist's spirit sculptures. For these totem-like objects, DeVane (American, b. 1950) adorns hollow glass vessels with pieces from her collection of found objects such as beads, wood, mirrors, plastic figurines, sequins, fabric, and even bullet casings. These elements are applied in conjunction, at times, with small, expressive clay heads shaped by the artist, giving voice and life to the sculptures. DeVane draws upon spiritual and African diasporic traditions to reference stories, prayers, and myths. Snakes, birds, saints, and mermaids populate the dense surfaces. The resulting works evoke the possibilities of spiritual communication and transformation.
The exhibition catalog, published by the BMA, features more than 15 images of the artist's spirit sculptures and essays by scholars Dr. Lowery Sims and Dr. Leslie King-Hammond as well as an interview with the artist.
Curated by Virginia Anderson, Curator of American Art.
This exhibition is made possible with thanks to Justin C. Bakewell, along with Mimi Kapiloff, Cindy and Tom Kelly, Clair Zamoiski Segal, Gwen Davidson, Ziger/ Snead Architects and McDonogh School.
Event Contact
Sarah Pedroni
4435731700
Event Details
Repeats weekly Sunday and Wednesday and Thursday and Friday and Saturday -- until Sunday October 20, 2019.
Free
Location
Add Event To Your Calendar