Every Day: Selections from the Collection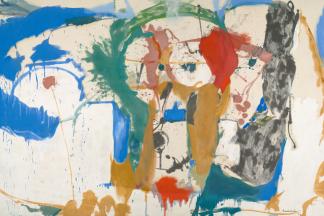 Every Day: Selections from the Collection is the BMA's first reinstallation of its contemporary collection centered on black artistic imagination. Nearly 50 works of painting, sculpture, video, printmaking, and photography from the BMA's permanent collection, alongside a select group of loans primarily from the celebrated Pamela J. Joyner and Alfred J. Giuffrida Collection, foreground the critical contributions black artists have made to postwar visual art.
Works by black American and African diasporic artists occupy anchor positions in the thematic reinstallation, emphasizing the ways in which these artists have shaped thinking and making in contemporary art. Themes explored include history, shape, material, gesture, self, ceremony, and violence. Every Day represents the BMA's collection history, highlights new acquisitions purchased with proceeds from the auction of recently deaccessioned works, and continues the BMA's efforts to build a more diverse and inclusive art experience for Baltimore.
Curated by Katy Siegel, BMA Senior Research Curator and Thaw Chair at Stony Brook University.
Event Contact
Sarah Pedroni
4435731700
Event Details
Repeats weekly Sunday and Wednesday and Thursday and Friday and Saturday -- until Sunday January 5, 2020.
Free
Location
Add Event To Your Calendar