Expressions of Nature: Early 20th-Century Landscapes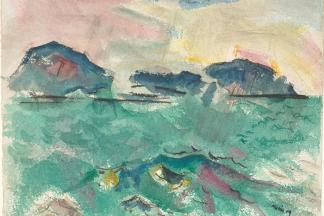 From a charcoal drawing and spare and subtle watercolors to thickly painted bold explorations of color and form on canvas, this exhibition explores how a selection of European and American artists from the BMA's collection depicted nature in the early 20th century. Many took inspiration from the previous generation. Some were drawn to the Impressionists' fascination with a realistic yet modern depiction of light and color captured at a particular moment in time.
Others may have been stimulated by the more solid and structured compositions produced by the Post-Impressionists, whose explorations with geometric forms and bold color were revolutionary. These artists often created images that represented the world from a subjective perspective, frequently distorting it radically for an emotional effect in order to evoke certain moods or ideas. They made the natural world their own in new and compelling ways.
Some compositions were produced quickly outside in front of the subject, while others were finished in the studio after much work. Many of the works on paper have not been on view for more than a decade.
This exhibition is curated by Katy Rothkopf, Senior Curator of European Painting and Sculpture.
Event Contact
Sarah Pedroni
4435731700
Event Details
Sunday, August 25, 2019, 10:00 AM – 5:00 PM
Repeats weekly Sunday and Wednesday and Thursday and Friday and Saturday -- until Sunday September 22, 2019.
Free Admission
Location
Add Event To Your Calendar