The Two's - Push on - Ep Release Tour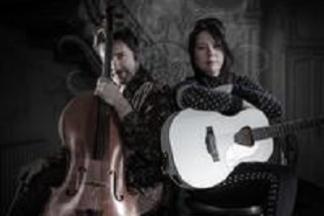 Imagine a child of the 80s/90s underground scene falling in with a 70s prog, classically-trained cellist. What do ya get? An unexpected, genre-bending sound. The New Orleans-based acoustic duo, The Two's, are hitting the road this summer with their new release, Push On.
The Two's new EP release Push On showcases the duo's musical styles, covering rock, roots, bluegrass, and classical. Ruby - the band octopus - sings while driving the music on guitar and foot drums. Using a few choice effects, Suki weaves texture and force into every song. Playing original music and re-imagined covers, The Two's have opened for such acts as rock legend Heart, international pop star Zucchero, Tim Reynolds, and have procured licenses on shows such as "Nip/Tuck."
About Ruby Rendrag
Ruby – the band octopus- plays guitar, footdrums, sings and writes most of The Two's original material. She was born at Ochsner to a Houma Indian mother and a banjo playing, West Virginian father. Ruby has been a part of the New Orleans music scene for over 18 years performing as a solo artist and as a side woman with many local acts. She lives a life immersed in music. As owner and manager of NOLA Muse, she helps local, national and international artists plan and execute their recording projects. Ruby, the band octopus, delivers a sultry vocal while setting the groove with her guitar and foot-drum kit, and infuses The Two's with her bluegrass-Led Zeppelin-80's underground influences.
About Suki Kuehn
Our cellist Suki Kuehn was made in Japan (a Navy brat). Growing up he was exposed by his parents to every kind of classical and theatrical music. Although he became an engineer, Suki has studied cello "on the side" from the fifth grade on. He has lived throughout the US, finally settling in New Orleans after a stint driving subs for the Navy. He plays either an old French cello that for who-knows-how-long lived in a barn south of Paris, or a battered German cello bought from an ancient woman in a dark French Quarter alley. Using a few choice effects, Suki weaves texture and force into every song, hinting at rock, folk, jazz and classical influences.
"...this band from New Orleans has created a distinct sound and musical mood of their own... It's that renegade, freewheeling approach to music …., which gives the band their charm." - Muse-ical Graffiti Online Magazine
Event Contact
Cyd Wolf
410-752-4515
Event Details
Tuesday, July 16, 2019, 6:00 PM – 9:00 PM
Location
Add Event To Your Calendar