Join Mixolo: Juneteenth Celebration Concert with Stanley Cowell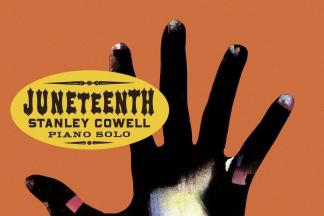 "'Juneteenth'…a major piece of work from Mr. Cowell, a curious, subtle player and thinker who has spent a lot of his career in academia… It is broad, layered, restful, polytonal, bluesy, unsettling, mysterious; it is 20th century classical music and gospel language and tumbling free improvisation and Ellingtonian resonance and Tatumesque control." - The New York Times, Ben Ratliff
Join us for A Special Juneteenth Celebration Concert with:
Stanley Cowell, composer & pianist
Benny Russell, guest conductor
Robert Shahid, guest drummer
Includes a Juneteenth reception after the show!
Stanley Cowell performs his "Juneteenth Suite" with an ensemble of strings, voice, and percussions. Juneteenth Suite was written in remembrance of the historic African American "Juneteenth" Emancipation of the former Texas slaves.
The term, Juneteenth, comes from the date June 19th, 1865 when African Americans in Texas learned that slavery had been abolished more than two years earlier. Today, Juneteenth continues to be celebrated throughout the country as a ritual of cultural pride and historical continuity.
MORE ABOUT STANLEY COWELL:
An excellent modern, mainstream pianist who is adaptable to many acoustic jazz settings, Stanley Cowell has long been underrated except among knowing musicians. He studied the piano from the time he was four, and Art Tatum made an early impact. After attending Oberlin College Conservatory and the University of Michigan, Cowell (who had played with Rahsaan Roland Kirk while at Oberlin) moved to New York in 1966. He played regularly with Marion Brown (1966-1967), Max Roach (1967-1970), and the Bobby Hutcherson-Harold Land quintet (1968-1971). In the early '70s, Cowell worked in Music Inc. with Charles Tolliver, and they co-founded the label Strata East. He played regularly with the Heath Brothers during 1974-1983, and since 1981 has been a busy jazz educator.
ABOUT THE VENUE:
An die Musik is a renowned classical, jazz and world music concert venue on the second floor of a historic Baltimore townhouse.
FAQ:
What's included in my ticket price?
The concert includes the food and beverage reception. CD's and alcoholic beverages will be available for sale.
Parking options?
Franklin Street Garage: At the corner of Charles and Franklin, enjoy a $3 parking rate on evenings and weekends. You must pick up a voucher at And Der Musik in order to receive the discounted rate.
You may find limited street parking in the area as well.
Is this venue handicap accessible?
An die Musik is located on the second floor and unfortunately cannot accommodate special needs access.
Other perks:
An die Musik offers discount coupons for the following partner restaurants;.
Cazbar (Mediterranean) - 316 N Charles St.
Homeslyce (Pizza) - 336 N Charles St.
Lumbini (Nepalese and Indian) - 322 N Charles St..
Maisy's (Baltimorecentric) - 313 N Charles St.
Poets Modern Cocktails and Eats - 24 W Franklin St.
Pick up your discount voucher at An die Musik and present at the time of meal purchases.
Refunds/Cancellations:
This is a non-refundable event. If Mixolo or our host cancels the event, you will be fully refunded.
IMPORTANT NOTICE:
Photos may be taken for promotional purposes for our web, social media and marketing materials. Mixolo is a real-life social network; we want to minimize the use of stock photos and reflect the true essence of our MIxolo community. Your registration and attendance will imply your willingness to participate and your release of all photos for use in marketing and promotions for Mixolo, Inc.
ABOUT THE MIXOLO APP:
Our events are now offered in the Mixolo mobile app available on Google Play or Apple iTunes for download.
The use of MIXCHAT, our messaging platform for connecting with members after you meet at an event is currently available only with purchases that originate in the app.
Event Contact
Carolyn Lynch
Event Details
Saturday, June 15, 2019, 8:00 PM – 10:00 PM
Location
Add Event To Your Calendar